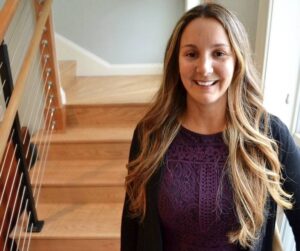 Veronica's personality allows her to easily connect with her clients and to make the buying/selling process as stress-free as possible. As a full-time licensed Maine real estate broker and REALTOR®, Veronica specializes in multi-units, lakefront, single-family homes, and short sales/foreclosures in Southern Maine.
Her uniqueness lies within her ability to understand people's needs, listen to their concerns, and provide them with their most ideal home. Whether you are a first time buyer, a seasoned investor, or selling your home, Veronica has the resources, technology, knowledge, and experience to assist you with all your real estate needs. Even after you have settled into your new home, Veronica will continue to lend her knowledge, skills, and services.

Background
Veronica Schneider was born and raised in Montreal, Canada and then moved to Portland, Maine 11 years ago. So she speaks fluent French. When she joined the Maine real estate industry in 2004 she brought with her over 5 years of experience in real estate management. She now owns several investment properties in the Greater Portland area and teaches her clients the same property management techniques she uses. Whether one is in the pursuit of owning or renting property, selling or investing in Southern Maine, Veronica will represent and guide her clients with unending energy, perseverance and diligence.
Testimonials
"We met with Veronica in 2011 through our first investment building purchase. She is very professional, full of knowledge, friendly and very easy to work with. Veronica got our fist building we almost forgot we gave offer to.It was a long short sale process which we did not experience before.Veronica kept us inform in every step of it and educated us, answered our million questions with full of respect. We just did not meet with a great realtor, we also met with a great person who cares you and your family. We can not think anybody but Veronica to work with our real estate needs as long as she works as a real estate professional.. Thank you Veronica for all, you are THE BEST!!!"
"I was extremely pleased with Veronica's services. She was attentive to my specific needs as a home buyer and took the time to explain the details of home-buying process as this was my first home. She was extremely patient with me as I don't make decisions quickly, but she stood with me and I am glad she did. She is dedicated to her clients and I would highly recommend her."
Veronica kept us inform in every step of it and educated us.
"Veronica Schneider is a highly skilled and dedicated Real Estate professional. She is well versed in all aspects of the Real Estate business. We not only use her for our RE needs but as president of our condo association I have recommended her to other owners and they have been very happy with the service that she provided for them. As far a we are concerned there is no better Real Estate person in Portland ME than Veronica Schneider."
"I was amazed with Veronica. She was beyond helpful in finding an amazing home and guided me through the process. As a first time homebuyer, I felt well cared for and could not have asked for a better first time buying experience!"